This weekend we went to a football party/ playdate with some friends in Ladera Ranch. The poor husbands hardly got to watch the SC game because the babies were crazy all over the place! For me though, it was the perfect way to watch football...with girlfriends, lots of food and lots of toys to entertain the kids! ;)
After that party, we left Ella with Alex and went to a wine and cheese party at our friends' house. It was such a great idea...everyone was told to bring their favorite wine and cheese pairing (ok, Gary and I know nothing about wine and cheese pairings so we just brought a cab and brie). They put brown bags around all the wine and numbered them, and then numbered the cheese. Everyone tasted the wines and cheeses (you were supposed to taste a wine then go taste the coordinating number cheese), gave each a score, and then voted on their favorites. The couples whose wine and cheese got the most votes got a prize! Really cute idea, and Jen made a bunch of amazing appetizers like prosciutto wrapped asparagus, tri-tip on crostini with mustard sauce and blue cheese and bacon wrapped dates.
Sunday, grammy and pop-pop came to visit Ella and take us out for Gary's birthday to Lucille's BBQ (yum!). They brought Ella's birthday present from great-grandma since she won't be able to make it out from Arizona to Ella's party.
Ella was very excited about all the pink tissue paper...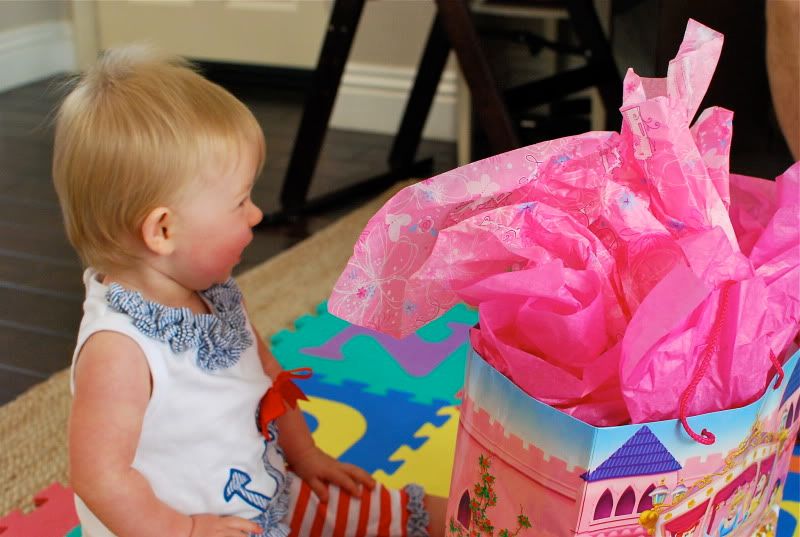 She read the card, and slowly took out each piece of tissue paper...
She looked up at grammy and pop-pop to make sure it was ok to rip into the gift, and then immediately started playing with the fun Melissa & Doug puzzles...
She thought pop-pop was pretty funny...
And she like playing puzzles with grammy...
Great-grandma got her 5 puzzles, but we only opened 2 of them, both of which she loved...