Gary has a million good qualities, but romance is not one of them. He does not plan things. Ever. That is why I was SHOCKED when he surprised me with a couple's massage and dinner at
The Montage
! That's right...my favorite hotel in the world. The place we got engaged and had our engagement photos. It was a perfect day.
It started with some relaxation at The Montage spa (ok, it started with me going to court, but I'm blocking that part out). I'd never been to their spa before, and it's absolutely
divine
. Like, I will be going back ASAP. I'm in love with that place. Perfect place for a girls' spa day (or weekend!).
We got a couple's massage and then hung out at the spa pool, which is amazing- it overlooks the ocean and is separate from the main pool. We then went into our separate lounges and did the steam room, sauna and jacuzzi. Since they knew it was our anniversary, they loaded us up with champagne!
After spa-ing (is that a word?), we went to
The Studio
for dinner.
I was so happy to go back because we went there for dinner the night we got engaged, and I was so excited that I literally had one bite of my meal- I have no idea what the food tasted like.
This was the view from our table (I mean, is this for real? Why can't I just move in?)...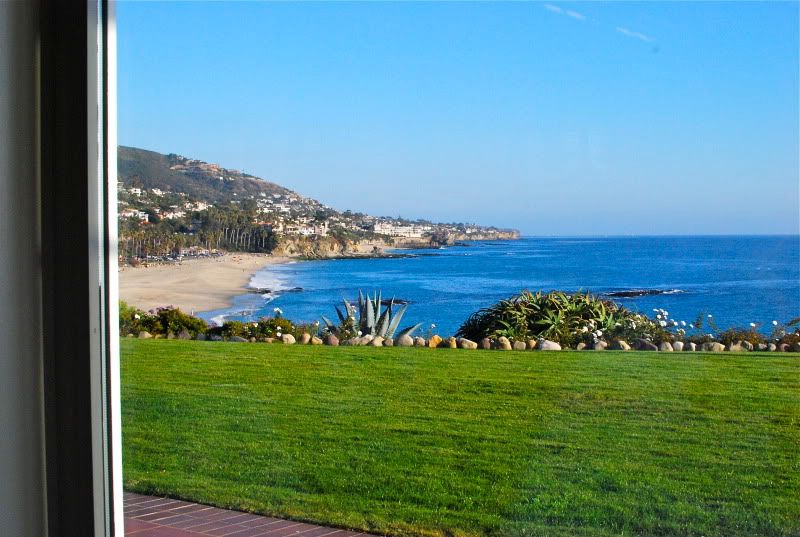 I purposely left my camera
on my lap
so that I would for once remember to take pictures of the food, but even with a huge camera on my lap, I STILL forgot to take pictures of all but 2 courses!
The table when we sat down...
After you order, they bring you an amuse bouche, compliments of the chef. It was delicious. Snap peas with crispy Serrano ham and a mint puree. So good.
Next was Caesar salad...
They bring you 3 types of rolls...sourdough, rosemary with olives and brioche- the brioche was so buttery and delicious!
Gary and I both ordered the New York steak with pommes puree and the most amazing short rib ragu. OMG. The ragu was short ribs with swiss chard and carrots, and I could have eaten an entire bowl of it. I'm so mad that I forgot a photo of the main course!!
We didn't order dessert, but they brought us a little celebratory tasty anyway- it was a dark chocolate mousse with some sort of pound cake center.
And to end the meal, they brought us a little plate of bite-sized treats and two bags of candy with cute Studio ribbon!
We didn't get any good pictures of ourselves...this was our waiter's attempt at a photo, but he didn't even get the ocean in the background!
Definitely one of the best gifts I've ever received!
We had Ella's birthday photo shoot and family photos on Sunday...yes, that's right, despite a summer of unusually low temperatures, our OUTDOOR family photos fell on what felt like the hottest day of summer (although it's freakin' fall!). I was SO upset when I found out it would be in the 90's. I couldn't cancel because it was our photographer's only available day until 2011.
We first did an indoor photo shoot with a white background, a naked baby and a cake- I got the idea months and months ago from an invitation I found online. I haven't seen the photos yet, but the shoot was AWESOME. I was crying I was laughing so hard. Ella wore the birthday hat I made her, and she had cake (well frosting really since she didn't eat the cake part) for the first time. She was VERY hesitant at first, but once I put a little frosting on her tongue, it was all over. She was taking frosting by the handful and shoving it in her mouth! If she doesn't throw up tonight, I'll be surprised. The photographer showed me one of the shots, and it was so unbelievably adorable. I can't wait to get the proofs!
We then did some family shots in our neighborhood...it was so ridiculously hot. Not to mention that I was in a JACKET and black pants, Gary was in jeans and a long sleeve shirt, and Ella was in a corduroy dress. Not good. Ella started to get so red that we had to take most of the shots with her naked! Oh well. Hopefully there is one good one in there, and at least a halfway decent one of her in the red dress for our Christmas card.