Friday night, Gary, Ella and I went to
Pomodoro
for dinner, and then Devon and I went to a scrapbooking party at Marlena's house...which is funny since neither Devon nor I scrapbook...we've come to the conclusion that scrapbooking does not like us. So it turned into a wine drinking party, and it was really fun!
On Saturday, Jen, Kylen and Paige stopped by, but Ella was sleeping so she didn't even get to play with Paige! Paigey had lots of fun with Rylee though. Gary, Ella and I went to the main pool in the afternoon (Ella WILL turn into a water baby!), and Gary took her in both the baby pool and big pool. We started in the baby pool with no floatie...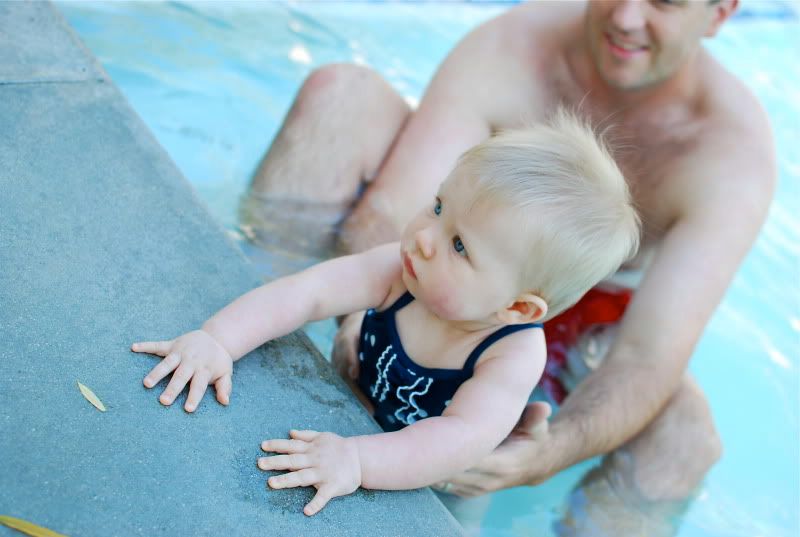 Some practice floating on her back...
Then a little floatie time in the big pool...
Followed by a little dunking time...
Which wasn't super successful because Ella kept trying to drink the pool water!
The rest of the weekend involved dinner at
Kimera
, Sunday brunch, lots of errands, walks and Ella falling on her head about 25 times (seriously, when do you need to worry about all the falling?!!). I bought some new clothes for Ella over the weekend (she is officially in 12 month size), and I just had to get some pictures of her in the adorable new plaid shorts I got her!
Oh, and two more things...in just a day, Ella is crawling on all fours A LOT. Much more than her army crawl (so I guess I was wrong, and she IS going to crawl). Two, her hair is out.of.control. Every time she wakes up from a nap, she has major bedhead sticking out all over the place!