We had a great weekend with friends! On Saturday, Ella had her besties over for a cookie exchange.
Santa and his reindeer (yes, that's right, I'm a mom now...I wear dorky reindeer ears to match my kid!)...
She got each of her friends a little gift...
Put out some cookies to eat...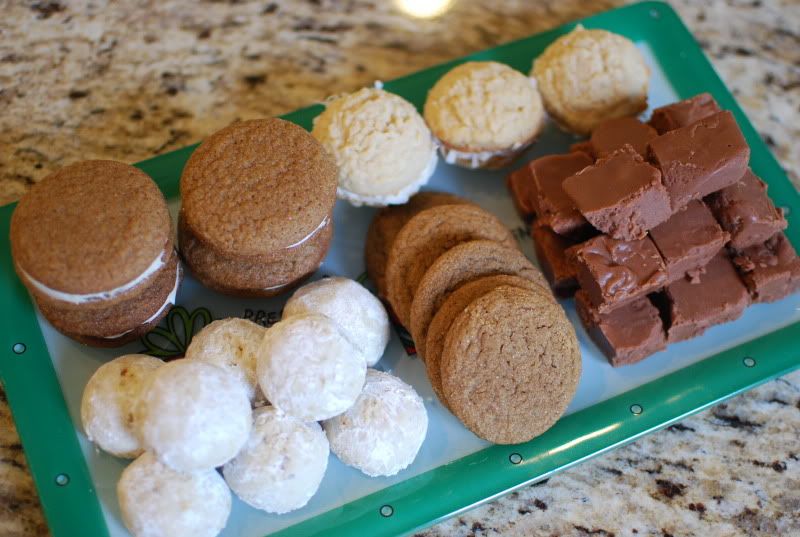 And made a white wine cranberry spritzer for the mommies (beer only for dads!)...
On Sunday, she met her BFF, Olivia, for brunch at Mrs. Knott's Chicken Dinner restaurant at Knott's Berry Farm. I wouldn't exactly recommend it if you're under 65, but the food (and there was a TON) was pretty decent for buffet food...especially the fried chicken at 10:00 a.m.!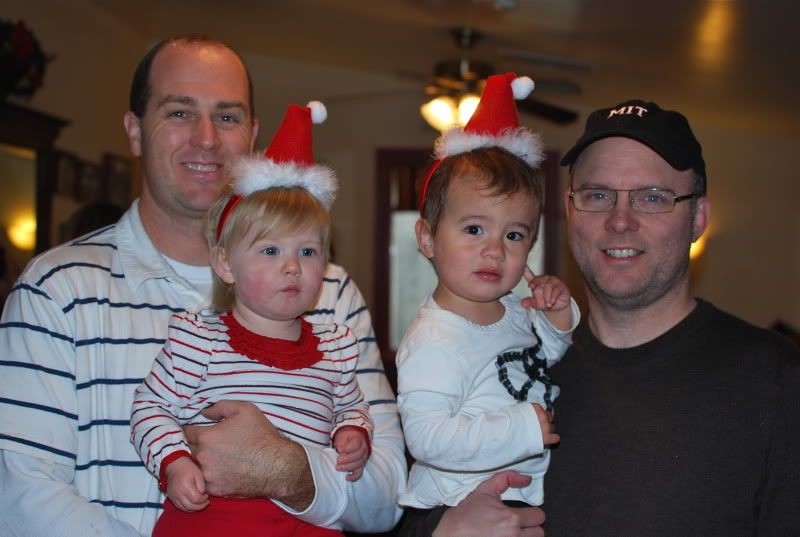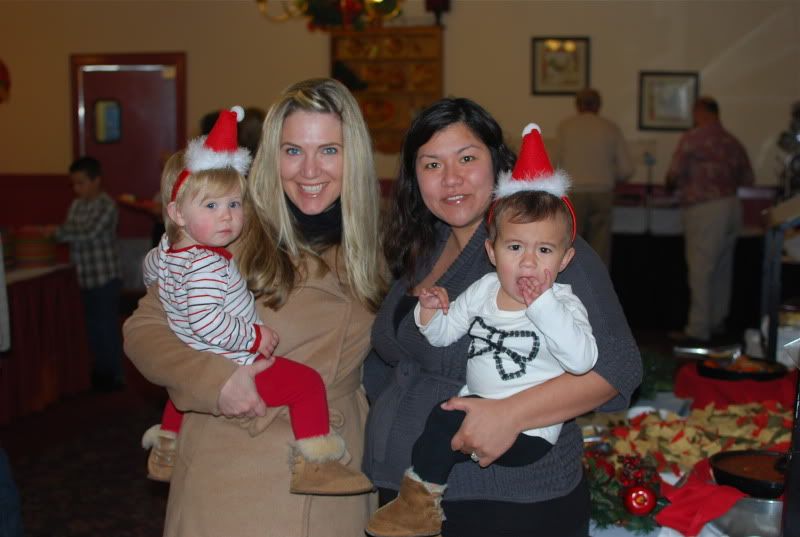 The girls exchanged gifts, and Olivia kissed her baby Elmo!
The majority of the photos of the girls were of the backs of their heads (but at least you can kind of make out Olivia's adorable curls!)...
Julie and I were saying that we can't wait until we can tell them to stand next to each other, smile and wait for the photo to be taken!! This is what happened when Gary and Julie tried to situate them near some poinsettias for a photo op (clearly, we just gave up)...
Snoopy stopped by, and Ella was not having it. She loved to look at him from afar, but did NOT want to be near him (what is up with my no fear baby??!!)...
Olivia wasn't too impressed either at first, but then she turned into his biggest fan!
They had three tables of desserts, including these cute little Christmas Snoopy cupcakes for the kids...
The whole clan...
***************************
Per request of Jen...my
Coconut Snowball
cookie recipe:
2 cups flour
1/2 tsp. baking powder
1/2 tsp. salt
1 pkg. (7oz) sweetened shredded coconut
3/4 c unsalted butter, room temp
1/2 c granulated sugar
1/2 c packed light brown sugar
1 large egg
1 tsp. vanilla
creamy vanilla filling (recipe follows)
(1) Preheat oven to 350. In a medium bowl, whisk together flour, baking powder and salt; set aside. Place 1/2 cup coconut into a small bowl; set aside. Place remaining coconut in a food processor; pulse until coarsely ground. Set aside.
(2) Beat butter with sugars until light and fluffy. Beat in egg and vanilla. With mixer on low, gradually add flour mixture and ground coconut; mix just until combined.
(3) Drop dough by level tablespoons onto two baking sheets, 1-2 inches apart. Bake until lightly golden around the edge, 10-12 minutes, rotating sheets halfway through. Transfer cookies to a wire rack to cool.
(4) Dividing evenly, spread filling on flat side of half the cookies; sandwich with remaining cookies. Roll edges in reserved coconut.
Creamy Vanilla Frosting
Using an electric mixer, beat 1/2 cup room temperature unsalted butter until light and fluffy. With mixer on medium, beat in 1 cup confectioners' sugar, 1/2 cup at a time, scraping down bowls as necessary. Add 1/2 tsp. vanilla extract; increase speed to high and beat until filling is light and fluffy, 5 minutes.