My mom says I thrive on doing 100 things at once so I guess I bring the craziness on myself...and I love every minute of it. :)
Things I did this weekend:
*Went out with the girls 2 nights in a row;
*Hosted a BBQ for 22 adults and 11 babies;
*Drove to San Diego to visit family;
*Ran errands, cleaned the house, did laundry, started creating a new craft room in the spare bedroom, started organizing and decorating my new office (photos coming soon!), went to Costco twice (and Gary went once), went to Michaels three times, did some work for both my 'real' job and my 'side' job.
It all started on Thursday night...
Thursday I went to
RA Sushi
with Jennifer and Molly (M is 10 months pregnant and thankfully did not have the baby at happy hour!)...it was so packed because the Laker game was on, but luckily we got a seat...and TONS of appetizers and sushi. I really think we got every single thing on the happy hour menu, and our bill was only $33. Love that frickin place. Thanks for treating Jennifer!
Friday I went to
Opah
with Tracy and Jen...we were supposed to go to Lazy Dog, but the wait was an hour long! It was great though- delicious martinis, and I think the best spinach/artichoke/crab dip with these to-die-for fried pita bread wedges I have ever eaten in my life. It was so fun to catch up!!!!
Saturday, Gary and I hosted a bbq for some of the girls in my mommy group, and I think it was a big success! At least I know we had a great time, and Gary loved meeting the other dads. He hears about the girls all the time so it was fun to all get together. I think he's going to spearhead a 'dad's night out'...that can only be trouble. ;)
Sunday, we drove down to San Diego to meet our new nephew, Brice. He's so cute and tiny! I can't remember Ella ever being that small, and she was 40% smaller than he is!!
Look at how Ella is mad-dogging him in this picture...priceless!
And what poor Brett has to deal with...
Oh, and in case anyone was wondering, this is what happens when you set your baby down in the middle of her play area and turn around for about 3 seconds...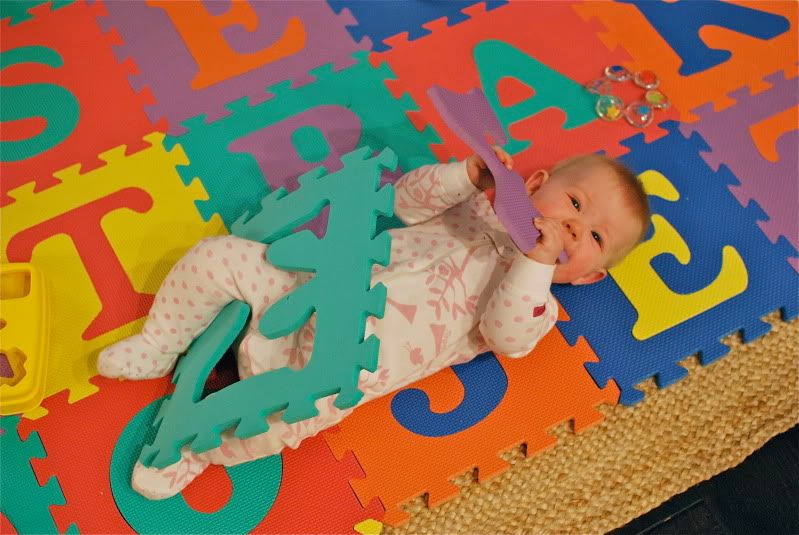 She immediately (and quickly!) rolls or scoots her way to edge, pulls off one of the squares, pulls out the letter to chew on and somehow gets the square stuck all the way up her leg?
Up next...another busy two weeks!
Oh, and I've already received lots of orders through my Etsy store...lots from friends so thank you all so much for supporting my new venture! I've received lots of requests for Ella's birds and butterflies blanket so I do think I'm going to start making blankets...I'll be heading up to LA soon to get more supplies. :)