We went to Santa Barbara for my birthday weekend, and we had a great time!
Here is Miss E before we left in her cute new Naartjie outfit from grandma.
We drove up Friday, and Gary and I took Ella to UCSB to show her all our favorite places.
Oops, I forgot to write about dinner on Friday night! My parents took us to
The Harbor Restaurant
on the pier. Even though it was overcast on the water, it was still a beautiful view! Ella dined on puffs, while the rest of us had halibut and steak. I got the first of my birthday desserts...cheesecake with raspberry sauce. I don't even like cheesecake, but this one was very good!
On Saturday, we all walked around State Street (ok, we mostly walked around Naartjie while we tried to prevent grandma from buying 20 more outfits for E!), and then we went to lunch at
Paradise Cafe
.
After E's nap, Gary and I took she and Rylee to
Hendry's Beach
for Ella's first experience in the sand and ocean water! She loved the beach and looking at the waves but hated the freezing cold water.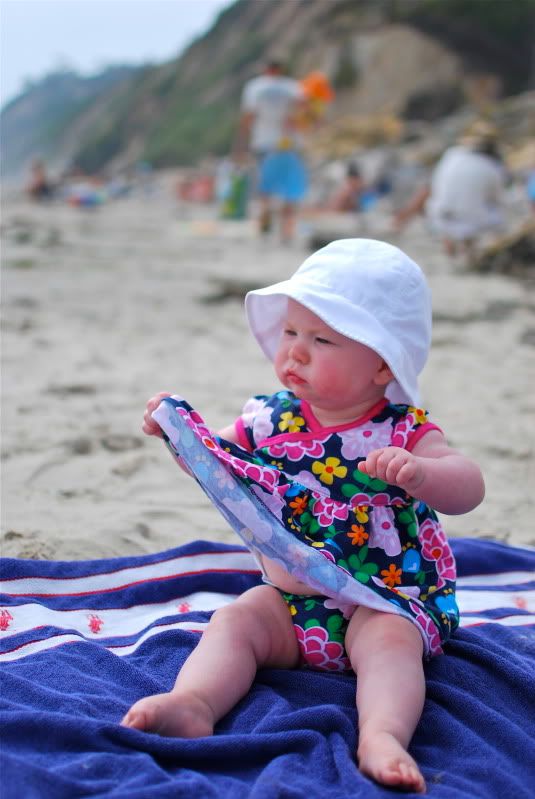 Saturday night, Gary took me for my birthday dinner at one of my very favorite restaurants,
Lucky's
, in Montecito (seriously, you MUST try this place if you are anywhere near SB...it's one of Oprah's favs too!). We had filet mignon, garlic mashed potatoes, creamed corn and a *very* strong martini called a "green envy". They also brought me a delicious birthday sundae in a martini glass...of course I forgot to take pictures of the food, as usual.
Before dinner, we took some family portraits.
This is what happened when we tried to include Rylee.
On Sunday morning (my actual birthday), we went to breakfast at
D'Angelo's Bakery
. I was dying to go here because I saw it featured on one of the episodes of "Best Thing I Ever Ate" on Food Network. I actually ordered exactly what was featured on the show..."Eggs Rose"...kalamatta olive bread with artichoke spread topped with poached eggs. Yum.
We were going to stay in SB for the day, but we decided to hit the road early, which was a very smart decision because there was no traffic, and we got home in under 2 hours!!! We're just relaxing for the rest of the day and probably going out to a casual dinner to watch the Laker game. :)
By the way, thank you so much everyone for all the birthday emails, texts, messages and Facebook shout outs...it means so much to me, and I love you all!