Ella was excited because daddy took the whole week off so they got to spend lots of time together. Mama got in there a bit too on Tuesday when, despite many of our friends being away for Thanksgiving week, we went to lunch with Kaitlyn and Ryan (that's a toothbrush Ryan is holding- he is very into oral hygiene!)...
Logan was supposed to meet us there too, but they accidentally went to the wrong CB...we missed you Logan!
On Tuesday night Ella had her very FIRST kid's meal when we went to dinner at BJs! Kraft macaroni and cheese and steamed broccoli.
We had a wonderful turkey day! I forgot to take any 'after' photos of the food, but I did get a 'before' of my second turkey ever (it turned out great!) and Gary's favorite rolls...
Ella wore her adorable brown Thanksgiving dress...
She cuddled with great-grandpa and for some reason had fun IN her toy basket...
She had so much fun with grammy, pop-pop, grandma, grandpa, cousin Brett, cousin Brice, Auntie Katie and Uncle Bryan...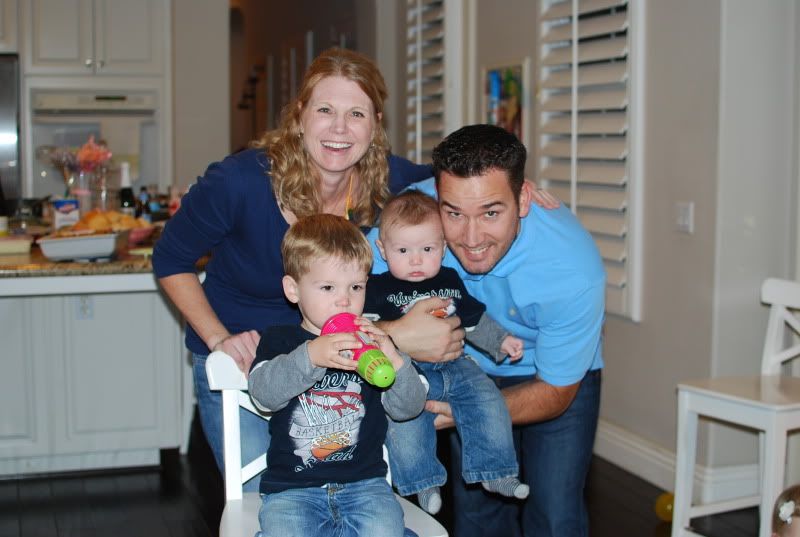 We all gorged ourselves on turkey, stuffing, mashed potatoes, gravy, green beans, carrot souffle, sweet potato casserole, rolls and pumpkin pie!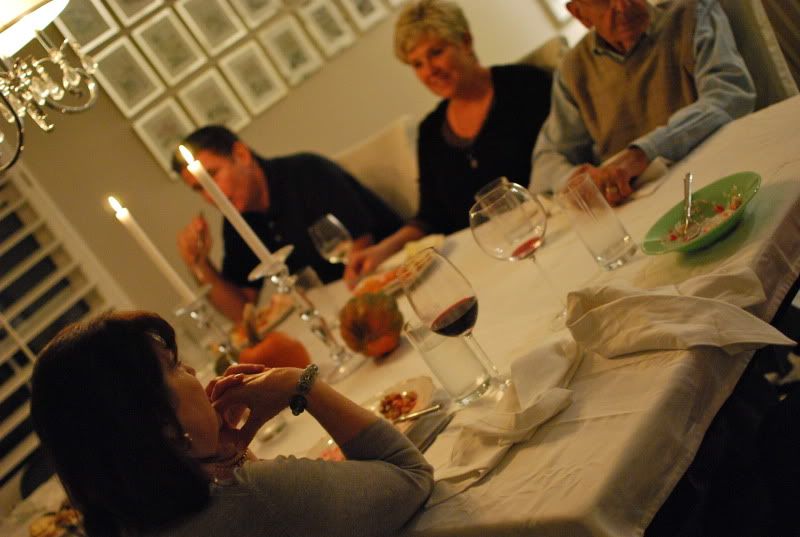 Some family pics...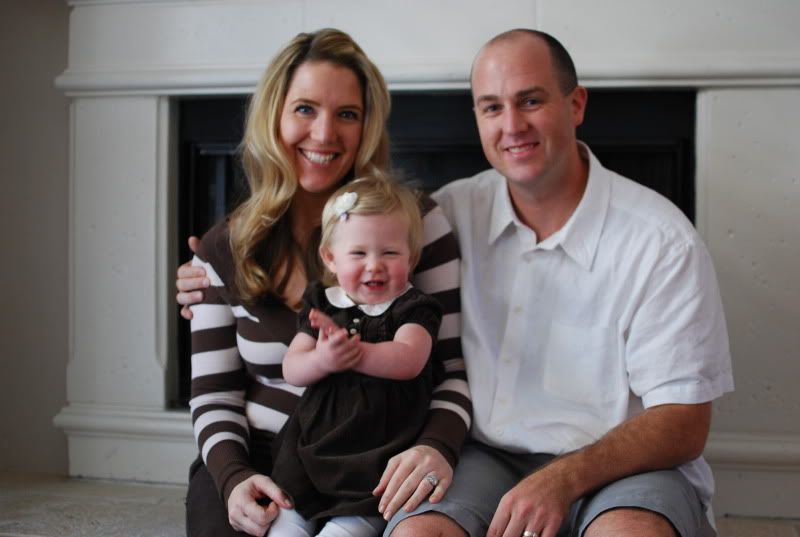 On Sunday, Ella went to church for the first time as a toddler (her nap schedule didn't coordinate with the mass schedule previously).
I learned a few things about church with a toddler:
(1) Only bring soft toys...so that when she throws them two rows in front of you on the concrete floor, the toy doesn't go BANG, BOOM, CLUNK, etc. as it bounces along the floor and you turn bright red, and then have to ask a random stranger to please pick it up for you.
(2) Sit in the area that has the most kids so that she enjoys watching them...and then gets jealous of all the toys that they have neatly lined up on the seats and attempts to crawl over her seat to get them. (This is also good so that when she yells "DA-DEE" at the top of her lungs during silent prayer, no one can identify that it's your child).
(3) Come with her favorite snack STOCKED. You know, the one that's like crack to her. Then keep them from her as long as possible so you don't run out in the middle of mass.
After church, Ella went to lunch with grandma and grandpa, and we went to pick out our Christmas tree!
She made a bee line for the Christmas trees, and then posed by the tree we picked with daddy...